Revealed! Ford Nails Mustang Mach-E EPA Rating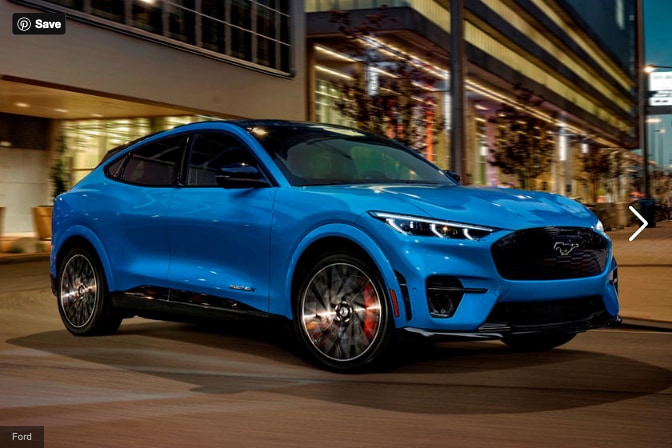 Jay Traugott | Nov. 22, 2020, CarBuzz
The 2021 Ford Mustang Mach-E has been in the news a lot lately and this isn't going to change for the foreseeable future. This all-electric, performance-focused SUV is a big deal for the Blue Oval as it's about to embark on a major EV product surge, such as the battery-powered F-150 due in 2022. But one of the big questions we've still have regarding the Mach-E is its EPA rated driving range. The official report is expected at any time.
But today, a member of the Mach-E Forum has posted an image of their soon to arrive EV's window sticker that reveals the government agency's official rating of the all-wheel-drive extended range Premium trim.
As you can see, it's officially rated at 270 miles, the exact figure Ford says it targeted all along. This is also good news for other targets across the Mach-E lineup. Those trims include the base Select, followed by the Premium, California Route 1, First Edition, and GT. To compare, the Tesla Model Y AWD Long Range is rated at 326 miles on a single charge, and 303 miles for the Performance version.
The Mach-E will launch with two battery pack sizes, 68 kWh and 88 kWh for Extended Range versions. Those looking to hopefully achieve the maximum range possible should probably opt for the Premium RWD which Ford believes will hit 300 miles. Read More

It looks like the 2021 Ford F-150 PowerBoost hybrid may be pulling double duty as both the most powerful and most fuel-efficient model in the lineup when it hits showrooms this year. Read More



The Ford F-150 is due to add an electric powertrain to its options sheet for the 2022 model year. Ford execs this week said the electric F-150 will have more torque and horsepower of any F-150 in company history, and the fastest 0-60 time, meaning 5 seconds or less to 60 mph. Learn More

Ford Mustang Mach-E Electric Car Sees First Firm Dates: Tesla Model Y Rival Revs Up Production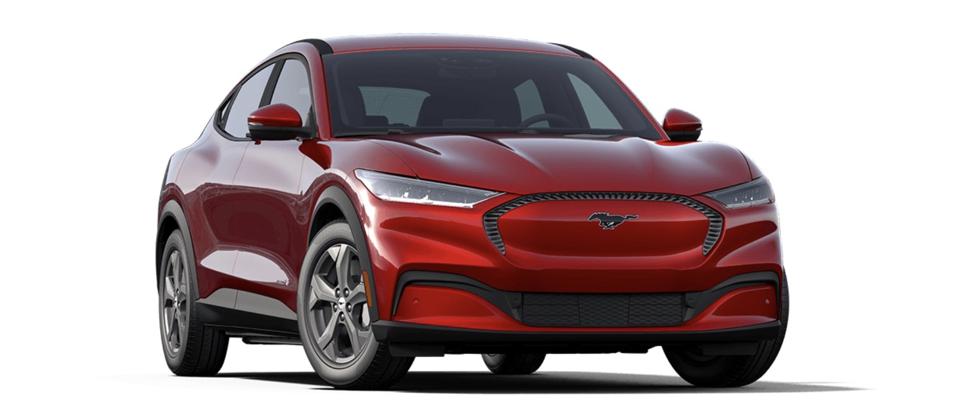 Buyers of the Ford Mustang Mach-E electric are seeing hard production dates.
Several people who placed orders for the Ford Electric crossover are receiving notifications of production dates of December 7, 2020, according to posts on the Mustang Mach E Reddit forum and the Mach E Club. Other December dates were also cited.
In an email, a Ford spokesperson told me that "production date emails" went out on Thursday.
The Mustang Mach-E is one of the most anticipated new electric cars and has one of the best chances of stealing some thunder from Tesla's popular Model Y. Both cars are classified as crossover SUVs, aka, a compact SUV.
Ford has previously stated that the 2021 Mustang Mach-E is slated to be available by late this year though volume availability isn't expected until 2021.

2021 Ford Bronco Almost Had A Foldable Windshield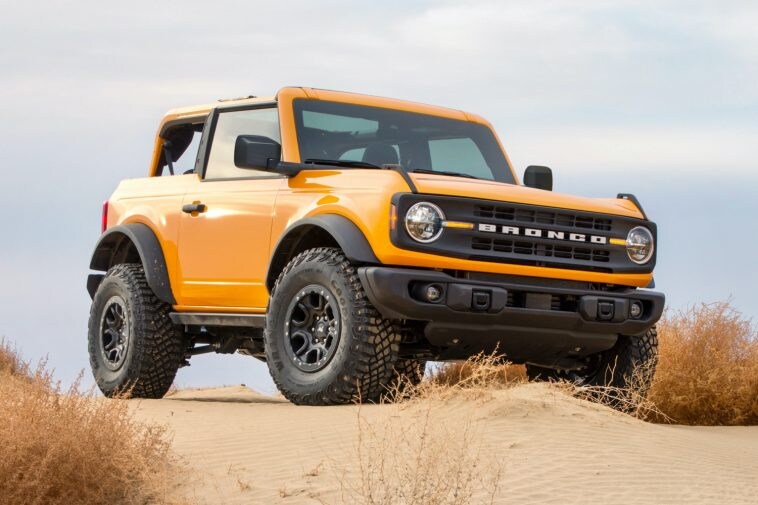 Brett Foote |10/11/2020 | /fordauthority.com
While we were awaiting the reveal of the all-new
2021 Ford Bronco
, many rumors swirled regarding what, exactly, we could expect. One such rumor was that the new
Ford Bronco
would feature a foldable windshield, just like its established rival, the Jeep Wrangler. But when the Bronco
was revealed
, we quickly realized that the foldable windshield did not make it to production. And now, we know why.
"We looked at that. In the original vehicle, you could do that," Paul Wraith, Bronco chief designer, told Ford Authority executive editor, Alex Luft, in a recent interview. "But it brings with it some problems. It does provide the user with a fairly rare event, since you start getting into things like flat windshields, which is a compromised construction around pillars."
"So what we actually really wanted to do is to provide a very open-air feel, thin out the pillars as much as we could, which is why we have the airbags in the sport tubes," Wraith explained. "That provided people a very safe envelope for people to sit within. So when you look at tradeoffs, we think we made the right one - but it's very safe, very open, and a good experience - and I think we made the right tradeoff."
The sport tubes Wraith is referring to is what Ford calls the roof construction that runs from the windshield to the trunk. It's clear that safety was at the forefront of the Bronco's design, particularly in the event of a rollover accident, which is more common with high-riding, shorter-wheelbase vehicles.
Those that seek an open-air experience will still be able to remove the roof and doors rather easily. In the four-door 2021 Ford Bronco, those doors can also be stored in the rear cargo area, which is something the Jeep Wrangler does not accommodate. And its top can also be removed in sections by one person, while the Wrangler requires a bit of heavy lifting and preferably a partner.


Our Self-Driving Business in Austin, One Year Later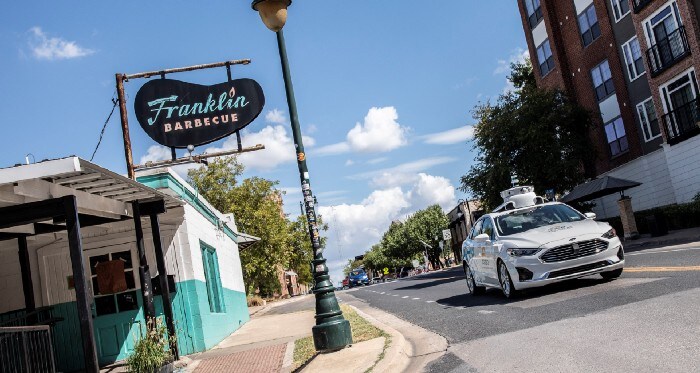 By Kathleen Baireuther, Austin Market Manager, Ford Autonomous Vehicles LLC
We stood in Austin one year ago with optimism for the journey ahead - launching a self-driving service that can be a part of the city's mobility ecosystem. Since then, we have been tackling the complex challenge of building a self-driving service, bringing together all of the intricate pieces to make it a reality. Although 2020 has been a challenging year, we've continued to build our business locally and we look forward to advancing our mission in the year to come.
One year of building our business in Austin: In the first year since our launch announcement in Austin, we have made significant strides, including:
· Opened an autonomous vehicle terminal. Located near downtown in East Austin, we opened a terminal that serves as the base for our self-driving vehicle test fleet. This was an important step forward as it allows us to manage our vehicle fleet.

· Invested in a command center. Ford made a real estate investment in a site near Austin-Bergstrom Airport that will eventually be home to a command center - the epicenter of Ford's local self-driving business and daily operations. It will house local customer relations, business development, research, safety evaluations and testing operations.

· Built our fleet operations expertise. Fleet operations that help ensure our vehicles are utilized, deep cleaned and maintained are a key part of creating a commercial service that people value - and that's profitable. We recently completed the first phase of a fleet operations pilot in Austin that will be utilized for our business in Austin and Ford's broader strategy.

· Continued focus on safety. We have engaged in an ongoing dialogue about our operations with first responders in the city to ensure we are creating a safe environment.



2020 Ford Explorer Earns Insurance Institute for Highway Safety's Top Safety Pick+, the Institute's Highest Honor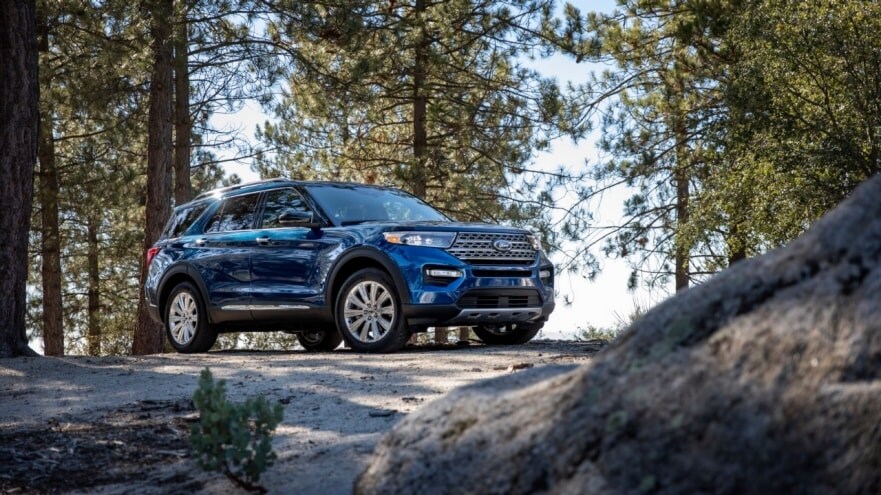 9/21/2020 | Ford Media Center
The 2020 Ford Explorer has earned the Insurance Institute for Highway Safety's Top Safety Pick+ for vehicles built after May 2020.  Top Safety Pick+ is the  Institute's highest safety award.
The Insurance Institute for Highway Safety's Top Safety Pick+ award criteria includes six crashworthiness tests as well as ensuring minimum "acceptable or good" headlight ratings on vehicles that must come equipped with advanced driver-assist technologies that can help avoid or reduce a collision.
"Explorer is America's all-time best-selling  SUV and with that, our customers expect it to take their family on adventures everywhere - from school to our national parks," said Lee Newcombe, Explorer marketing manager, Ford Motor Company. "This honor from the Insurance Institute for Highway Safety reaffirms the obsession of our entire team who work tirelessly toward the goal of helping our customers arrive at these places and everywhere else in between."
As part of Ford's commitment to advanced technologies, Explorer features the Ford Co-Pilot360™ suite of driver-assist features as standard equipment. The Insurance Institute for Highway Safety recognized Explorer in both vehicle-to-vehicle and vehicle-to-pedestrian evaluations. Explorer aced all six areas of the  Institute's crashworthiness testing and is recognized for the lighting capabilities of its headlamps across all series levels.
The full suite of Ford Co-Pilot360 driver-assist features on the 2020 Ford Explorer include:
Pre-Collision Assist with Automatic Emergency Braking including:

Pedestrian Detection
Forward Collision Warning
Dynamic Braking System  

Blind Spot Information System
Rearview Camera
Cross-Traffic Alert
Lane-Keeping System
Auto High-Beam Headlamps
Ford Promises Its Electric Truck Will Crush Your Current F-150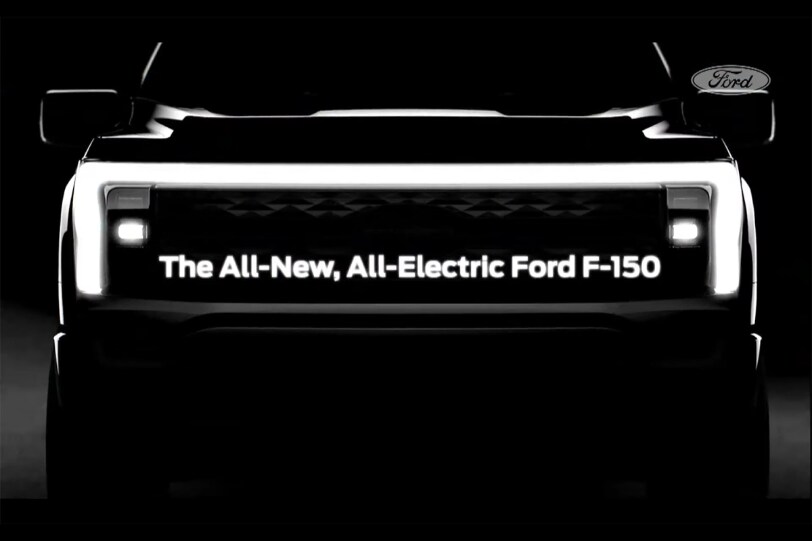 Alex Lauer, 9/18/2, i
nsidehook.com
Buying an electric vehicle in the U.S. up till now has been about compromise. They usually cost more than their gas counterparts, but they're more environmentally friendly. They have instant torque, but towing depletes the battery quickly. All this is fine for car owners, but for trucks, especially for people who actually use their pickups for work? The compromises are out of the question.
Not only does Ford not want to compromise on its upcoming all-electric F-150 pickup, but in new announcements this week, the Blue Oval promised that the EV truck will absolutely crush older models in terms of performance, operational cost and even cargo. 
"The electric F-150, which is undergoing tens of thousands of hours of torture testing and targeting millions of simulated, laboratory and real world test miles, will be more powerful than any F-150 available today," the automaker said in a press release. 
Specifically, Ford says it will offer "more horsepower and torque," "the fastest acceleration" and, most importantly for EV skeptics concerned about hauling, "the ability to tow heavy trailers." But power isn't the only incentive the company is using to entice potential converts; the electric F-150 will also feature a "giant front trunk" (colloquially known as a "frunk") thanks to the reconfigured powertrain in EVs, and it will reportedly cost 40% less than traditional F-150s in terms of the "lifetime total cost of operation," which includes things like fuel, oil and maintenance. 
The pledge came alongside a few large-scale manufacturing announcements. First, Ford patted itself on the back for starting production
on the latest F-150
, but more importantly it broke ground on the Rouge Electric Vehicle Center, a new factory in the company's Dearborn, Michigan industrial park where the electric F-150 will begin production supposedly by mid-2022 for a 2023 model.
All of this, it should be said, isn't particularly surprising. Of course Ford needs to offer something undeniable to get Americans who have driven traditional F-150s their entire lives, and families who have driven them across generations, to consider going electric. One thing we didn't expect this early is to get a preview of what the design will look like.
The preview image of the front-end [pictured above], which appears to feature a huge LED bar running along the top of the grille and around the headlights, shows up for just a split second in the middle of the
half-hour Rouge Center presentation
, which isn't particularly exciting for people outside the industry.
If Ford has piqued your interest, you'd be better off watching
this video
of the prototype testing, which still has the old-school look, but some newfound power:
Ford Ranger Tremor hopes to dominate midsize truck market

Phoebe Wall Howard, Detroit Free Press, 9/14/2020
America will see an all-new 2021 Ranger Tremor off-road package that enhances the look and feel of the midsize pickup as Ford steps up its fight against the Toyota Tacoma. This is the latest effort to win over drivers who enjoy using their truck both off-roading and commuting to work.
"Our target customer wants to have adventures, be free and get away from the daily grind but also needs to carry gear, supplies and passengers," said Chad Callander, marketing manager for the past five years for Ford Ranger.
Sales tend to be higher on the coasts, in larger metropolitan areas, with 15%-20% in California. Los Angeles is a huge market. But Seattle, San Diego, Dallas, Houston, Boston and New York also are hot spots for sales of the truck, which is smaller than the best-selling F-150.
"Anywhere it's easier to maneuver the vehicle into a parking space," Callander said.
After unveiling the vehicle at the Detroit auto show in 2018, and hitting dealerships in 2019, Ranger is one of the few vehicles to gain sales in 2020.
In the second three months of 2019, buyers purchased:
68,683 Toyota Tacomas
31,669 Chevy Colorados
20,880 Ford Rangers
 In the second three months of this year, consumers bought:
51,063 Toyota Tacomas
25,008 Ford Rangers
19,843 Chevy Colorados
Ranger rose from 10.2% of its market segment during the first six months of 2019 to 17% of the market a year later.
2021 Ford Bronco: Why It Has Independent Front Suspension
Angel Sergeev, 8/25/2020, motor1.com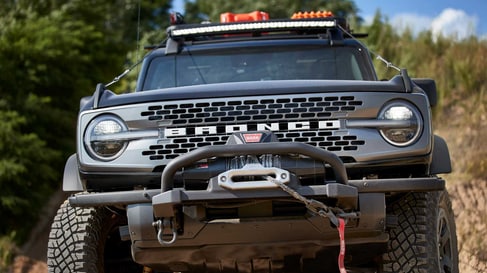 Because no death wobble.
The solid front axle is one of the most important selling points of the Jeep Wrangler and it was even highlighted for the automaker's salespeople in a document that recently leaked to the web. There's no denying that this suspension is good for off-road use but Ford's engineers decided against it and went with an independent front axle for the new Bronco instead. Here's why.
In a recent interview with MuscleCarsAndTrucks, engineers from the Bronco R&D team gave more details about the independent front suspension of the revived Bronco. If we have to summarize their words, the decision for an IFS layout is mainly linked with the vehicle's behavior on paved roads. But we'll let them explain it in their own words.
"For IFS we make [the Bronco's] manners much better on-road," Bronco Chief Engineer Eric Loeffler told the online publication. "Therefore we get the best of both worlds… in Bronco we've been able to balance the performance, especially at higher speeds where our competitors don't. And yet on-road the vehicle is just so much more enjoyable to drive."
Off-road fans out there are probably going to disagree - isn't the new Bronco designed to go in the mud most of the time, after all? The solid axle versus independent suspension debate won't settle down anytime soon but Ford might have an answer to its critics for choosing an IFS setup for the Bronco.
"If you want to be a high-speed off-road desert runner, you definitely want an IFS… there is an element to the suspension technology that we selected is the right one for what we're targeting," Ford's Global Program Manager Jeff Seaman added.
What's "a high-speed off-road desert runner" you might ask? Well, we don't know exactly but it sounds like the engineers wanted to make sure the new Bronco is immuned to the so-called death wobble phenomenon which causes the steering wheel to violently shake after hitting a road bump at higher speeds.
A 30-year-old New Hampshire native has driven across Route 66 in the height of summer in a 1929 Model A, taking in the famous sights in just nine days while rarely breaking 45mph.
Ryan Tebo - who had never been beyond Pennsylvania - spent several days driving from New Hampshire and arrived at the route's eastern branch starting point in Chicago, Illinois on August 13 and made it to Santa Monica, California in the three-speed manual by August 22.
Despite the sweltering 115 degrees Fahrenheit heat in places, and the coronavirus pandemic, Tebo documented his 3,600-mile-journey on social media and found it was the ideal time to take a road trip in the Ford motor which has no electronic fuel injection and drum brakes.
Find Your Wild with the All-New Bronco Sport
Meet the latest in a legacy that can't be broken. Engineered to bring you and your crew closer to the wild, each of the four available models comes standard with 4x4, a Terrain Management System™ with G.O.A.T. Modes™ (Goes Over Any Type of Terrain) and an adventure-ready build. So gather your crew, pack your gear and embark on your adventure - Bronco Sport has got it from here. Learn More
First-Ever Ford GT Heritage Edition to Celebrate Storied '66 Daytona Win, Plus 2021 Studio Collection Graphics Package
Ford Performance unveils new Ford GT Heritage Edition inspired by the 1966 Daytona 24 Hour Continental, a stylish Frozen White with exposed carbon fiber and Race Red livery that pays homage to the 55th anniversary of the epic race where Ford achieved its first 24-hour endurance win
Exclusive Ford GT Studio Collection offers even more exclusivity with unique and widely customizable design features in a limited-availability package for only 40 Ford GT supercars slated for production across the 2021 and 2022 model years
New 2021 Ford GT Heritage Edition and Studio Collection are the pinnacle of Petersen Car Week, which started airing Wednesday on the Petersen Museum's YouTube channel; highlights include several virtual events featuring 25 hours of original content from manufacturers and enthusiasts, plus automotive lifestyle and auction house activities
All-Electric Mustang Mach-E 1400 to Star in this Weekend's NASCAR Cup Series Broadcast
NASCAR Cup Series Champion Joey Logano this week had a chance to feel the raw electric power of the one-of-a-kind Mustang Mach-E 1400 prototype along with Ford's famed drift star Vaughn Gittin Jr. at Ford's Romeo Proving Grounds in Michigan.
Logano and Gittin were on-track to make a short film to showcase the Mustang Mach-E 1400 - developed in collaboration with Gittin's RTR Vehicles - that will appear for the first time Saturday and Sunday during NBC's televised coverage of the NASCAR Cup Series races at Michigan International Speedway.
Projecting 1,400 peak horsepower and with seven motors, Logano experienced firsthand what a Ford Performance/RTR electric vehicle can do.
"It was so cool to get a chance to drive the Mustang Mach-E 1400," Logano said. "With all-wheel drive it just launches at the start and you have so much power it's crazy. The Ford Performance guys with Vaughn and his team have built something special."
When Ford revealed the 2021 Bronco last week July it announced six standard trim levels along with a First Edition model limited to 3,500 units. On Monday, Bronco6G forums posted an email that the Blue Oval sent Bronco First Edition reservation holders letting them know it would be increasing production on the limited-edition model to 7,000 units.
The email stated that despite the production increase reservations for the First Edition model remain full. Should the increase in production make reservation holders change their mind they are free to change their trim choice or cancel their order for a full refund of the $100 deposit.
"Due to overwhelming demand, we made a one-time increase to the quantity of limited-edition First Edition models to 7,000 total. Reservations for the limited-edition First Edition two- and four-door Broncos are full," Ford spokesman Sam Schembari told Motor Authority.
New Ford Bronco reportedly has an 18-month waitlist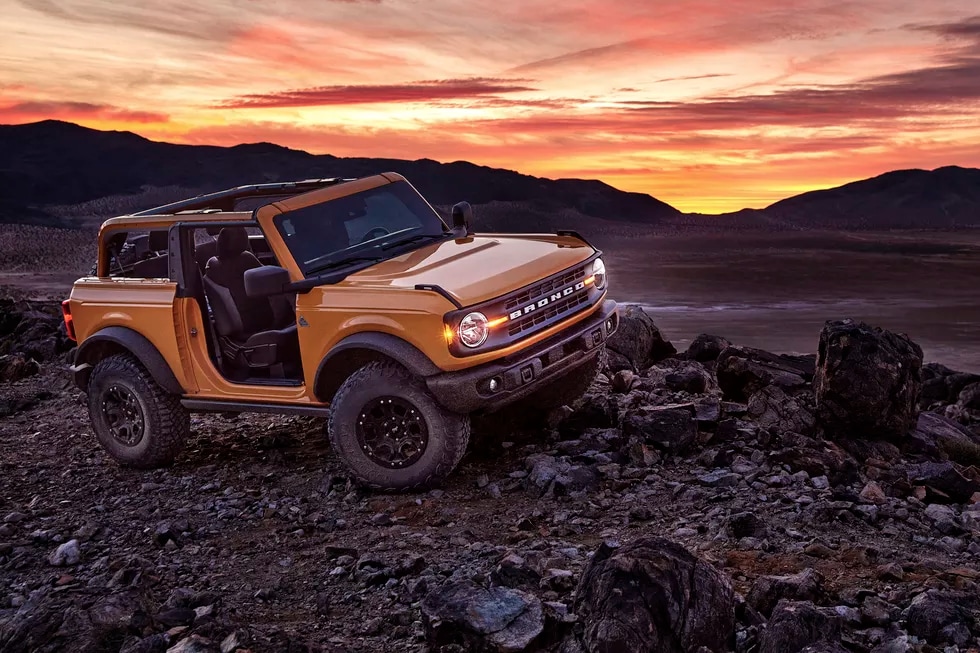 Chris Paukert, Roadshow, July 27, 2020

Massive interest in Ford's new SUV could mean it's going to take a long time to take delivery, but the start of production remains on schedule.
After years of rumors and speculation, the 2021 Ford Bronco finally debuted on July 13. The burly 4x4 SUV's unveiling triggered an immediate and immense surge of traffic on Ford.com that caused the automaker's website to quickly buckle under the pressure. The website's functionality eventually recovered, and interested parties' mounting frustrations gave way to more reservation deposits. So far, Blue Oval has yet to disclose just how many $100 refundable preorders it has actually taken for its reborn two- and four-door SUVs, but that total figures to be sizable: the model reportedly already faces an 18-month waitlist. 
That's right, if you didn't raise your digital hand early, you may not take delivery of your Bronco until 2022, despite the fact that the first examples of the new SUV are due next spring. That's according to a source speaking with Car and Driver. Read More

There will be a two-door midsized version of the off-road SUV, a four-door version and a smaller off-roader called the Bronco Sport. In effect, Ford is creating a separate sub-brand for off-road SUVs under the Bronco name.
Ford Mustang Mach 1 Logo Design Was A Serious Challenge
The 2021 Ford Mustang Mach 1 is back after a 17-year market absence and the Blue Oval knew from the get-go that updating the icon was going to be a huge challenge. Not only did the new Mach 1 have to be extremely track-capable, but it also had to look the part. We already know a lot about its cool new exterior design features, but there's another element Ford gave serious attention to: the Mach 1 logo. In fact, the automaker assigned the task of modernizing it to a whole team of graphic designers led by design manager Dave Mahoney.
What was their starting point, aside from the original logo? They took inspiration from their exterior and interior design colleagues who also had to pay homage to the Mach 1's past while looking ahead.
"From a brand standpoint, that vintage Mach 1 logo has such a classic look, there was a lot that we didn't want to lose," said Mahoney. "The unique letters, the outline - it was important to keep those features. What we did do is make it more modern, which really suits the new car."
While the new logo pays tribute to the original with the lowercase "h," Ford didn't want these graphic designers to come up with a completely retro badge. It had to be modern yet instantly recognizable. Easier said than done. Ford also made the decision for the logo to appear in numerous locations through the muscle car, such as on its hood stripe, front fenders, and rear end. It can also be found on the strut tower brace under the hood and even the door sills.
Inside, 'Mach1' can be spotted on the instrument cluster and center stack touchscreen during startup. There's also a dash badge that includes the logo as well as the vehicle's serial number.
"When a nameplate like a Mach 1 comes back, you need to play up the heritage, but we didn't want this to be a retro badge," said Dean Carbis, Ford's chief designer. "We wanted it to be modern, while still calling back to the original. I think the team nailed it."
The 480 horsepower Ford Mustang Mach 1 will arrive in dealerships next spring.